Thanks For:
Shout Box
Pictures
Stallions
Counter
Tuesday, October 25, 2005
Which Character Are You?
I read Purg's post about what character he was so I took the same quiz and here's the result! I'm happy to say that I really like the result!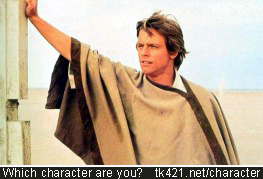 Boldly striving to overcome the darkness both in this world and within yourself, you are righteously devoted to forging your own destiny.

It's your choice, but I warn you not to underestimate my powers.

Luke is a character in the Star Wars universe. For more information, see his character entry at the Star Wars Databank.
Posted by The Stallion @ 11:11 AM

About Me
Name: The Stallion
Location: Kuwait
About Me: A Kuwaiti guy, but definitly not your typical Kuwaiti! I'm very openminded and like to meet new people!
See my complete profile
Previous Posts
Archives
Special Blogs
Interesting Blogs
Credits