Thanks For:
Shout Box
Pictures
Stallions
Counter
Wednesday, August 31, 2005
Woohoo Celebration!
I've mentioned on my blog how I went to apply for an American visa but I never updated you guys about it! Well, here's the update! I gave them my passport on Sunday for their final review and they told me to pick it up yesterday (Tuesday)! When I went to pick it up I was excited but to my excitement I saw that I wasn't granted a visa! My excitement turned into fear, stress, and mixed emotions of sadness and worry! Seemed as if this month is "HELL MONTH" for me!
On the pre-numbered sticker that was placed on the passport the word "reinterview" was clearly written and when I asked the lady who gave me back the passport what it meant she said that she didn't know and that I should just come back in the morning and check it out!
This morning I went back and after waiting my turn I found out that the Embassy just wanted more information! They asked me the same exact questions but they just wanted more detail! There was nothing to stress or worry about! I pick up my passport today with the visa in it! WOOHOO!
Inshallah I will fly out next week!
Oh and I also had the honor and privilege to meet the ambassador but I couldn't shake his hand since the window was separating us! He asked me a few more questions and we had a small, enjoyable conversation!
Posted by The Stallion @ 12:37 PM

Monday, August 29, 2005
The Nerd? Geek? or Dork? Test
Aftre reading Mark's post about this quiz I decided to take it myself!



Joe Normal
34 % Nerd, 30% Geek, 8% Dork
For The Record:



A Nerd is someone who is passionate about learning/being smart/academia.

A Geek is someone who is passionate about some particular area or subject, often an obscure or difficult one.

A Dork is someone who has difficulty with common social expectations/interactions.


You scored less than half in all three, earning you the title of: Joe Normal.



This is not to say that you don't have some Nerd, Geek or Dork inside
of you--we all do, and you can see the percentages you have right
above. This is just to say that none of those qualities stand out so
much as to define you. Sure, you enjoy an episode of Star Trek
now and again, and yeah, you kinda enjoyed a few classes back in the
day. And, once in a while, you stumble while walking down the street
even though there was nothing there to cause you to trip. But, for the
most part, you look and act fairly typically, and aren't much of an
outcast.



I'd say there's a fair chance someone asked you to take this test. In any event, fairly normal.



Congratulations!



If you enjoyed this test, I would love the feedback!




Also, you might want to check out some of my other tests if you're interested in either of the following:



Buffy the Vampire Slayer




Professional Wrestling





Love & Sexuality





Thanks Again! -- THE NERD? GEEK? OR DORK? TEST
My test tracked 3 variables How you compared to other people your age and gender:
| | |
| --- | --- |
| | You scored higher than 12% on nerdiness |
| | You scored higher than 32% on geekosity |
| | You scored higher than 3% on dork points |
Posted by The Stallion @ 11:06 AM

Saturday, August 27, 2005
Arabic Playlist of the Day
Posted by The Stallion @ 1:50 PM

Trying to Stay Strong
It's extremely hard trying to hide one's emotions in order to keep things going! Today is that kinda day where I'm at work trying to hide my emotions of sadness, hurt, confusion, and more! Usually I would be listening to Arabic Music that's up beat and cheerful but today is quite the opposite! Here are the songs that are on my play list:

Must Have Been Love - Roxette
One Last Cry - Brian McKnight
The Reason - Hoobastank
Against All Odds - Phil Collins
Aint No Sunshine - Bill Withers
Anytime - Brian McKnight
End Of The Road - Boys II Men
How Am I Supposed To Live Without You - Michael Bolton
Nobody Knows - Tony Rich Project
On Bended Knees - Boys II Men
Say Goodbye - Dave Matthews Band
Yesterme Yesteryou Yesterday - Stevie Wonder
I Will Always Love You - Whitney Houston
Do What You Have To Do - Sarah McLacklan

The Arabic List will be my second post of the day!

Posted by The Stallion @ 9:01 AM

Friday, August 26, 2005
Sadness Strikes
I don't know what to say nor what to do!
I feel very lonely and blue!
I wish "K" was here to pull me through!
Now I know that the following song is true!






You never close your eyes any more
When I kiss your lips
And there's no tenderness like before
In your fingertips
You're trying hard not to show it baby
But baby, baby I know it

You've lost that loving feeling
Oh, that loving feeling
You've lost that loving feeling
Now it's gone, gone, gone
Whoa-oh

Now there's no tenderness
In your eyes when I reach for you
And girl you're starting to criticize
little things I do
It makes me just feel like crying baby
'Cause baby, something beautiful's dying

You've lost that loving feeling
Oh that loving feeling
Bring back that loving feeling
Now it's gone gone gone
And I can't go on
No-oh-oh

Baby baby I get down on my knees for you
If you would only love me like you used to do
We had a love
A love a love you don't find every day
So don't...don't...don't let it slip away

Bring back that loving feeling
Oh, that loving feeling
Bring back that loving feeling
Now it's gone...gone...gone...
And I can't go on...
No-oh-oh...
Posted by The Stallion @ 8:58 PM

Thursday, August 25, 2005
Paintball
Yesterday, I went to the
paintball (PB) grounds
here in Kuwait. I've been there a few times but never actually did anything. Last night though was different, I actually played. I haven't played in about 2 years but I had a ton of fun. One minor issue was that I'm
asthmatic
and the weather didn't help much since I was running around quite a bit playing "center flag" in humid weather. I still had fun and sprayed the guys up but for some reason they get me.
After I was done I was talking to one of the staff members and he asked if I wanted to purchase his "marker" (the PB gun) but I wasn't interested. I am doing him a favor and posting up the marker that he wants to sell! The package comes with the marker (GUN), mask, 20oz gas tank and a cleaning brush and they are all pictured below! If you want more into on the gear that's for sale visit the
PB place behind the Kuwait Towers
or call them at 243-1101!
Posted by The Stallion @ 1:04 PM

Wednesday, August 24, 2005
1 Year in Kuwait!
Last year on this exact day I came back from the US after completing my bachelor's degree and hanging out with friends and "chosen family"! I MISS THEM! So yalla barkooli and send me my gifts!


BTW talking about gifts what are people going to get me for X-mas? :oP Then there's my B-day and oh not to forget zahbaw al-3ayadi! :oP


WOW! That was soo off topic but it's no biggie! Anyways, happy one year in Kuwait anniversary to me!
Posted by The Stallion @ 10:21 AM

I GOT TAGGED!
I got tagged by my friend,
Blasha
10 years ago: I was 15 and had nothing to worry about other than the fact that it was going to start my last school year in High School! Unlike Blasha I was in Kuwait and I actually told myself that I didn't want to remember those day but now-a-days I can't help the fact that I want to reminisce upon those days and laugh at things I did! :oP Oh BTW I was about 100kg at the time also!
5 years ago: I was in the US studying for my bachelor's degree in Accounting going from one university to another! I enjoyed my times of experimentation and making great friend some of which have become chosen family! They know who they are! ;o) I miss you guys!
1 year ago: Exactly one year ago was the time I came back to Kuwait after graduating with a FINANCE degree and spent 2 months with my "Chosen Family"!
Tomorrow: Other than having dinner with friends I'm hoping to spend time with the one I love! My one and only "D"! I love you baby!
5 snacks I enjoy: LuLu Ice Cream, Pringles, Ferrero Roche chocolates (this includes their golden wrapped chocolates and their KINDER line as well), GODIVA, and donuts!
5 bands/artists that I know the lyrics to most of their songs: 5 is too little for I know the lyrics to a lot of bands and artists but here goes! Craig David, Dave Matthews Band, Lionel Richie, Bob Marley, and Garth Brooks but the list does go on!
5 things I'd do with $100,000,000: Buy a house, yacht, and a car collection after paying off my debt to my parents for 7 years of college! Granted my dad won't ask for the money and won't want it but he'll still get it!
5 locations I'd like to run away to: Hmm run away as in something is bothering me and I want to get away well then I will want to be in the arms of a loved one ("D), my room, alone on the beach at a friend's house who's one of the "Chosen Family, and in the US I used to run to my pets.
5 bad habits I have: Driving too damn fast, being lazy and not motivated unless I'm with someone, hick-ups (Mo Ana!), losing touch with friends easily, and once I'm in a bad mood it takes me a while to get back into a good mood.
5 things I like doing: Dancing, driving, anything to do with a monitor/tv (internet, DVD, TV, movie....), hanging out with friends, and partying.
5 thing I will never wear: Capri pants AKA 3/4 pants, some of the pants "shabab Marina" wear, shirts or t-shirts with designs that are too "out there", suits that aren't "classical", and crappy looking shoes!
5 TV shows I like: JAG, NCIS, CSI, Junkyard Wars, Pimp my Ride. (I will watch pretty much anything but I love things based on real stories/issues and real life shows like Pimp my ride, or Monster House, or Queer Eye or The Straight Guy....)
5 movies I like: Coming to America, Sister Act I and II, Diary of a Mad Black Woman, and Scarface. BTW there are a lot more! You should just check my collection of DVDs!
5 people I'd like to meet: Can ancestors and dead people be placed in this section? For those who are alive I'd like to meet Bin Sulayim (UAE driver and car collector), Jessica Alba, owner of the BMW car company (YES PURG BMW), Richard Branson (owner of Virgin), and whoever is in charge of the island of Ibiza.
5 biggest joys at the moment: My gf "D", being close to my family, having my "chosen family", my workplace/job, and being able to fantasize about things I want.
5 favorite toys: Laptop, TV, Home theater system, iPod, and my snorkeling gear.
I'm tagging:

Nibaq, JC, ***Diamon***, Tata, and Samboose.
Posted by The Stallion @ 7:52 AM

Visa Interview
Yesterday I had my interview at the American Embassy after I e-mailed them for an non-immigrant tourist visa! On the 30th of July I e-mailed the embassy here in Kuwait and asked them for an interview appointment. The replied on the same day with my appointment date which happened to be yesterday (23rd of August 2005)! They also sent a list of things they wanted me to bring with me for the interview! They made things seem pretty simple!
Anyways, I was informed to be there for an 8:30 interview appointment but I knew that wasn't going to happen! I went to the embassy once a year or 2 back in order to renew my student visa and I was told to be there at 8:30 and I didn't leave till 1PM! Yesterday though I was done by 11AM! Granted it was 3 hours since I got to the gates of the embassy till the time I was done, I think everything went smoothly.
They told me to bring my passport next week and finish the rest of the procedure but the good thing though is that I don't have to do it! They said the driver or the "mandoob" at work could just bring it in and finish everything!
Those of you out there who are going to apply or are waiting for their interview appointment, good luck and make sure you bring a book or magazine! They do not allow any electronics into the embassy so your MP3 players won't do you any good!
Posted by The Stallion @ 7:29 AM

Saturday, August 20, 2005
Birthdays, Goodbyes, and Love!
Today's the day in which my best friend in the US becomes a year older! She is an amazing young lady who's extremely considerate, thoughtful, intelligent, has a strong personality, talented, and I can go on for ages but I won't! Happy B-day hun and I hope you got your present!

(pictured below)
As for the "Goodbyes and Good Luck Wishes" they go out to my cousin who's going to fly out tonight to go to Canada and start orientation for his Freshmeat, oh I mean Freshman year as a college kid! Good luck, have fun, be safe, live life, and most of all "Bayith iwyooh ahalik!"

"D" I didn't forget you hun and I want to dedicate the following song just for! :o* 7abeeb A`roo7

Posted by The Stallion @ 1:39 PM

Wednesday, August 17, 2005
A Birthday Wish
I want to send out a birthday wish to a little girl who means soo much to me and I miss her dearly! This will be her 2nd birthday! I wish I could be there during her b-day party! I know if I did show up her parents would be extremely surprised but unfortunately that won't happen! Anyways, HAPPY B-DAY!



"HSM" at my place in the US while I was babysitting! She was about a month or two!
"HSM" at the university's pool and she was about nine or ten months!
This is her asleep about a month before her 1st b-day! Isn't she an angel?
Within the next month her mom will be giving birth to another baby! That should be an exciting adventure for her to start!

Posted by The Stallion @ 10:26 AM

Tuesday, August 16, 2005
A message for "D"
For some reason I felt like my "D" will be gracing my blog once again so this time I decided to put down the first song that came to mind when I woke up this morning and thought of her! The song is called "Crush" by The Dave Matthews Band! I LOVE YOU "D"! :o*
(Click the image of the album below to be taken to the yahoo site where you can listen and/or watch the video clip to this song)
Crazy, how it feels tonight.
Crazy, how you make it all alright, love.
Crush me,
With those things you do
And I'll do for you
Anything, too, oh...
Sitting, smoking, feeling high...
And in this moment
Oh, it feels so right...
Lovely lady, I am at your feet,
Oh, God, I want you so badly.
And I wonder this:
Could tomorrow be so wondrous
As you lay sleeping?
Let's go drive 'til morning comes,
Watch the sunrise and fill our souls up,
And drink some wine 'till we get drunk.
Yeah...
It's crazy, I'm thinking,
Just knowing that the world is round
And here I'm dancing on the ground
Am I right side up or upside down?
And is this real, or am I dreaming?
Lovely lady, let me drink you, please.
Won't spill a drop, no, I promise you
Lying under this spell you cast on me
Each moment the more I love you.
Crush me, come on
Oh, yeah...
It's crazy, I'm thinking
Just knowing that the world is round
And here I'm dancing on the ground
Am I right side up or upside down?
Is this real at all, or am I dreaming?
Lovely lady, I will treat you sweetly
Adore you, I mean...
You Crush me,
And it's times like these
When I think that feeling
I know how I love you.
Come on, come on, baby...
It's crazy, I'm thinking
Just as long as you're around
And here I'll be dancing on the ground
Am I right side up or upside down?
To each other we'll be facing
My love, my love,
We'll beat back the pain we've found
You know I mean to tell you
All the things I've been thinking
Deep inside, my friend.
Each moment the more I love you.
Crush me, come on, baby...
So much you have given up
That I would give you back, again and again.
Oh, my love, many now hold you,
But please, please, just let me, always.
Posted by The Stallion @ 7:13 AM

Monday, August 15, 2005
God is a DJ
I remember back in the day I used to have a t-shirt that said, "God is a DJ" on it and some people had issues with it but most of my friends loved it! Today, I was talking with one of my friends from the US and he gave me a link to a short video clip by the name of "Spin" that I thought was amazing and pertained to this subject! ENJOY!
The clip is brought to you by:
Posted by The Stallion @ 8:40 AM

Saturday, August 13, 2005
Blog Issues
A few days ago I was talking to friends as well as reading a few messages from fellow bloggers about my blog. I've been told that my blog is messed up structurally in the sense that they cannot access the comment sections of my posts! I tried to fix that problem but I can't! For some reason I when I access my blog via firefox, whether from my computer or other people's computer, I can access anything on my blog but when using IE it seems to be faulty! I was wondering if people can help me out with this issue! Please leave me a comment telling me how this can be fixed!
In case you need the specific issue well you can see that my profile, links and comment sections after the blog posting prior to the "Suba7 Al-Salem Co-Op" post are missing or messed up! This problem only occur on IE!
Posted by The Stallion @ 9:57 AM

Wednesday, August 10, 2005
Last Day of the Work Week!
MMMMMM Wednesday has finally got here! It's the last day of work before the weekend and also the last day of the financial course I am taking that's sponsorred by the firms below! SWEEEET! There is one issue though and that's the problem of me not wanting to do anything today! Mali 5ilg shay! :oP
Posted by The Stallion @ 8:50 AM

Tuesday, August 09, 2005
Suba7 Al-Salem Co-Op
While waiting for our pizza we (Nibaq, JC, and I) went into the Co-Op! We were amazed by how organized everything was! This co-op was organized better than any place you can find here in Kuwait! Everything was positioned properly, and it was very easy to find what you were looking for. It's more organized than the Sultan Center! Everything was nice and neat, not to mention clean! There were also some products that brought back memories and others that we were surprised to find! An example of such a product would be the cereal pictured below! (Keep in mind the boxes were moved by me in order to take the photograph and everything was put back into the neatly organized way that it was in before we took the pics!) Notice in the pics that there's a table cloth on the shelf! WOW!
Posted by The Stallion @ 8:46 AM

Suba7 Al-Salem
This place is HUGE! Nibaq, JC, and I went on an adventure to satisfy our hunger and craving for Papa John's pizza so we all got into Nibaq's SUV and headed towards Suba7 Al-Salem! It took us half an hour to find the place since the neighborhood is huge (13 residential blocks)! All we knew was that Papa John's was at the Co-op (supermarket) and we were thinking it was going to be a piece of cake to find! Little did we know that Suba7 Al-Salem has more than one Co-op! I added a pic to show the entire neighborhood with a few comments on specific blocks!
Suba7 Al-Salem
Posted by The Stallion @ 8:39 AM

Monday, August 08, 2005
!!! PIZZA !!!
Yes people, PAPA JOHN'S has finally arrived in Kuwait! I was reading the paper and I came upon a flier that was advertising Papa John's pizza and I was happily surprised when my co-worker told me that the opening was last Thursday! One issue though and that's the only store is located in Subah Al-Salem Co-op! (No offense to those who live in that neighborhood, bil3aks I envy you now!)
Posted by The Stallion @ 7:57 AM

Sunday, August 07, 2005
Housing Issues
In the same local paper that had the piece about the
"Tropical Island"
there was news about a housing dispute between the owner of a house and a man who's renting out the property! Apparently the dispute has been going on for a while where the owner wants the tenant to leave the property but the tenant refuses to do so! The owner decides to dig up the front yard of the house even though the tenant is paying rent for the first floor of the house and the front lawn! After the land has been dug out the tenant's family are stuck in the house while the tenant is stuck on the street! That would be bad coming home after work and being in this position! What would you do in this situation? What is your point of view on the whole thing?
Posted by The Stallion @ 8:24 AM

Year Round Tropical Island
In one of the local papers today there was news regarding a tropical island that can be visited at anytime during the year! The newspaper had a picture but it wasn't too clear so I decided to go online and check it out! This place looks AMAZING! The first pic leads you to the official site while the second pic leads you to a site with pics taken by a tourist!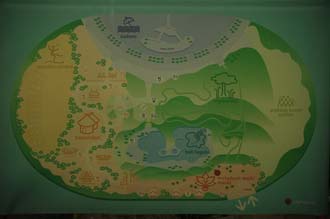 Posted by The Stallion @ 8:08 AM

Saturday, August 06, 2005
Friendship and Love
Posted by The Stallion @ 9:04 AM

About Me
Name: The Stallion
Location: Kuwait
About Me: A Kuwaiti guy, but definitly not your typical Kuwaiti! I'm very openminded and like to meet new people!
See my complete profile
Previous Posts
Archives
Special Blogs
Interesting Blogs
Credits