Thanks For:
Shout Box
Pictures
Stallions
Counter
Saturday, October 29, 2005
Top 10 With A Twist!
10 FAVORITES
Favorite Color: Green
Favorite Food: Simple turkey sandwich on a bagel, crab rangoons or Chicken Fetuccini
Favorite Month: Depends on where I am! Kuwait = January but in the US = September
Favorite Song: Depends on the mood, year, and situation!
Favorite Movie: Coming to America
Favorite Sport: Paintball
Favorite Season: Fall
Favorite Day Of the week: US = Friday but in Kuwait it's Thursday
Favorite Ice Cream Flavor: Baskin Robbins Strawberry Shortcake
Favorite time of Day: When I see "D"

9 CURRENTS:
Current Mood: Hungry
Current Taste: Cotton Mouth
Current Clothes: Imkasar, faneela, O wizar
Current Desktop: Ferrari Calender
Current Toenail: Huh?
Current Time: 4:20PM
Current Surroundings: Bed, TV, Couch, in other words my bedroom furniture
Current Thoughts: "When is it time to break my fast?"

8 FIRSTS:
First Best Friend: K. H.
First Kiss: S. M.
First Screen Name: ss_stalion
First Pet: House pet was love birds, my pet was a guinea pig
First Piercing: eye brow
First Crush: Talleen in infant school or Rebecca in college
First Album: Photo ablum or music?

7 LASTS:
Last Cigarette: 2000
Last Drink: Johnny Rockets strawberry milkshake
Last Car Ride: 2 hours ago
Last Kiss: Wha kind of kiss?
Last Movie Seen: Actually it's the KINGDOM HOSPITAL show!
Last Phone Call: My cousin G

6 HAVE YOU EVERS:
Have You Ever Dated One Of Your Best Guy/Girl Friends: No
Have You Ever Broken the Law: Everyone has!
Have You Ever Been Arrested: No
Have You Ever Skinny Dipped: Yes
Have You Ever Been on TV: Yes
Have You Ever Kissed Someone You Didn't Know: Yes

5 THINGS:
Thing You're Wearing: Boxer briefs ;o) Imkasar, faneela, and wizar and I put my sunglasses to be my 5th! :oP
Thing You've Done Today: translate, excel, blog, look up projects and watch KINGDOM HOSPITAL
Thing You Can Hear Right Now: TV, AC, cars honking, DVD spinning and brothers talking
Thing You Can't Live Without: TV, movie, Computer/laptop, family and friends
Thing You Do When You're Bored: Surf the net, chat, watch a movie, drive, and hang out with friends

4 PLACES YOU'VE BEEN TODAY:
1. Work
2. Room
3. Gas Station
4. Salmiya

3 PEOPLE YOU CAN TELL ANYTHING TO:
1. K. H.
2. "D"
3. M. W.

CHOICES:
1. Black or White: Black
2. Hot or Cold: Hot

1 THING YOU WANT TO DO BEFORE YOU DIE: Just one? There are too many!
Posted by The Stallion @ 4:07 PM

WALKING
Friday was a killer! Shady and I decided to go to the Friday Market! Yes, the Stallion has gone to the market every week for 3 weeks now! :oP We walked around the market and saw some crazy things and random gadgets! I've seen more today than the time I went with JCand Nibaq! Shady took plenty of pics and once we were done we decided to walk to the mini malls close to the market! The things we saw were, lets put it this way, "different"! Shady pointed out that people needed a better way of designing their little strip malls and their stores like the "Dream Mall" on 4th Ring Road! We then went to Safat Al-Ghanim but it was closed!

Once we were done with this side of Kuwait we went Downtown! We walked around Downtown Kuwait from Sal7iya to the intersection at the Muthana Complex! After walking up and down that stretch of road, we went to meet Amunki and Mama Fusla who were kiting on the beach! After about 20 minutes later we headed out to Johnny Rockets to break our fast! MMMM YUMMY!

After Johnny Rockets we walked to The Sultan Center and purchased some things and after that we sat down at Cafe Supreme where Nibaq and Tooomz met up with us! Toomz left and so Nibaq, Shady and I walked to Fanar and walked around the mall then we crossed the street and entered Eureka! Walked in there for a while then we went to the complex right next to it (I think it's called Shaha complex but I'm not quite sure!) Once we went in to each Ghetto store, 2 sport stores, and 2 stores that make custom clothing we left and walked all the way to Marina Mall! We hung out there with Rampurple, Toomz, Caffeinated and 2 friends! We had a FUN TIME at Marina before Shady and I made the trek and walked back to the car that was parked by Johnny Rockets! Friday was a day filled with walking and lots of interesting comments, items, and people!

So shady, do you wanna do all this again? :oP
Posted by The Stallion @ 10:43 AM

Decision Making
Ever since I came back from the US, I wanted to invest in a new digital camera! Before that I wanted a new cell phone but I put off getting one! Now the time has come and I want both but I decided to get the camera!

Guess what though? I didn't get the camera! Instead JC and I went shopping and we both got new phones! He got the Nokia 6630 and I got the new N70! I love my new phone! I have to admit though that I felt bad getting it cause I really wanted a camera! The reason I didn't get a cam was cause I don't know what to get!

All I know is that I want a Digital SLR and so far it comes down to 3! Canon EOS 20D, Nikon D70S, or the Nikon D100 are the ones I've been advised to look into, but I have no clue which one to go with! Feel free to give me more advice on which one I should consider or if you have other options in mind!

Oh here is what the N70 looks like in case you wanna check it out!

Posted by The Stallion @ 10:21 AM

Tuesday, October 25, 2005
Which Character Are You?
I read Purg's post about what character he was so I took the same quiz and here's the result! I'm happy to say that I really like the result!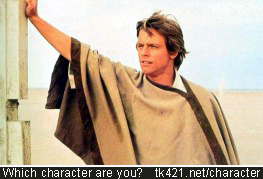 Boldly striving to overcome the darkness both in this world and within yourself, you are righteously devoted to forging your own destiny.

It's your choice, but I warn you not to underestimate my powers.

Luke is a character in the Star Wars universe. For more information, see his character entry at the Star Wars Databank.
Posted by The Stallion @ 11:11 AM

Tiida - Space Wanted UPDATE
A few posts ago I talked about ads in the local paper regarding the
Tiida - Space Wanted website
! Well over the radio today I found out that the ad was for Nissan Al-Babtain regarding the release of a new hatchback during the auto show that begins on November 9th of this year!
Here are a few pics I found
online
showing this little car!
BTW there's a
blog dedicated to this car
but it's in Japanese!
Posted by The Stallion @ 10:05 AM

Monday, October 24, 2005
Beer Run
One of my friends sent me this link to an interesting game! I hope you guys enjoy!
Miller Beer Run!
Posted by The Stallion @ 1:17 PM

Saturday, October 22, 2005
Tiida - Space Wanted
2 ads on the both the top corners of today's Al-Watan paper caught my attention and it said
Tida - Space wanted
! One ad had a picture of a girl the other had a picture of a guy! I didn't know what it was so I went to their
website
!
After going through their
website
and reading the tiny profiles of the 8 "Tiida Crew" members, I still don't know what the site is all about! The design of the site is awesome but the flaw is that they don't have any info about what they are all about! They just waned people to sign up!
Does anyone out there know what they stand for or what the site is all about?
Posted by The Stallion @ 9:58 AM

Weekend Round Up
This weekend was great! I got to hang out with friends and socialize! Wednesday night was the only day that ended up being boring! I was invited to a samra and it was cancelled!
As for Thursday, well, I had a few friends over (and they know who they are) for dinner and it turned out quite well! 25-30 people were invited, 18 confirmed but only 13 showed up! The night was more intimate with a smaller group and we had more fun! Thanks for those who contributed to what was offered for food and beverages! You didn't have to do that but thanks anyways! A special thank you goes out to "D" for actually making it out to the dinner! ;o*
Friday,
Nibaq
and I went to Souq Al-Yim3a (Friday market) and walked around! The weather was amazing for an afternoon walk! We snapped a few pics and talked about the products that were available! After the market, I was dropped at home and loaded up my car to head towards
JC's
house! I had fu6oor with
JC
and we chilled at his place till I had to leave and go home! I got a call from my friend who wanted to come over to my place so I told him I'll see him there! I got to my place watched half a movie with him and then he said he had to take off!
Posted by The Stallion @ 9:05 AM

Thursday, October 20, 2005
Tagged Once Again
This time the tag was from Unknown Entity! Here goes!

Name Five Things:

In Your Fridge:
1) condiments
2) White Toast
3) Soda
4) Desert (cakes, chocolate pudding,...)
5) dairy products

In Your Freezer:
1) Ice Trays
2) Ice pack for muscle aches
3) Ice Cream
4) Bread
5) My grand mom's secret mixture for her special scrambled eggs! (JC knows what I mean!) ;o)

In Your Medicine Cabinet:
1) I too don't have one!

Under your Kitchen Sink:
1) Trash can
2) Filter
3) Detol
4) Rags
5) Air freshener

Near your Computer:
1) Recordable CDs
2) 3 Remote controls (TV, DVD, and Stereo)
3) Cell Phone
4) Tissue
5) Book called, "The Globe Illustrated! Shakespeare, The Complete Works Annotated!"

Those who are tagged are how convenient the 5 mandate members! :oP

Posted by The Stallion @ 3:13 PM

Tuesday, October 18, 2005
George W VS Chimp
A friend sent me this picture this morning and I laughed so hard! Good thing there wasn't anyone at the office yet since I came in early! What an astonishing resemblance huh? I hope you like it!
Posted by The Stallion @ 9:31 AM

Friday, October 14, 2005
Fun Times

Yesterday was a fun filled and exciting day! :oP Granted I only slept for two and a half hours (7:30AM to 10AM) I woke up and went to the Friday Market with JC! We walked around the market from 11AM to 1PM! I enjoyed it even though it was extremely HOT, but it would be better if I went back on a day when I'm not fasting and on a Friday instead of a Thursday! I got home and immediately took a shower! I have to admit that market made me feel extremely dirty!

After fu6oor I met up with a few friends for a night that was supposed to be filled with board games and such! Instead we only had one board game which was Trivial Pursuit that I brought with me! The person who was supposed to bring the rest of the games never showed up! There was one point during the night where the host showed us a DVD that he purchased! The picture of the DVD cover can be seen below! This DVD was extremely funny! A few people tried to copy what was being taught in the video and it was even funnier! Pretty much everyone's reaction to the instructor was that he was a Irani/Persian version of Richard Simmons! Mohammed Khordadian was the name of the instructor and despite the copyright year being labeled as 2003 the recording seemed like it was from the 80's! We laughed at the attire that was worn in the video! The 2 pieces of clothing that come to mind were the leg warmers and the shorts that one of the men were wearing where it was black on the sides and pink in the middle! :oP Khordadian also had a session in the DVD labeled "Female Dances" where he actually shows people how to dance doing all the steps himself! A must see if you wanna laugh! If any of you have seen a Richard Simmons video then you would know what Khordadian's actions were like because both of them get into what they are doing so much that they enjoy it more than anyone else!





Simmons on the left and Khordadian on the right!




This gathering also turned out to be one that was filled with bloggers! Those who attended were:

Nibaq
Purg
Jazz Central
Toomi
Mama Fusla
Amunki
Shady Q80
ME! :oP

Posted by The Stallion @ 10:45 AM

Wednesday, October 12, 2005
Tagged!
The lovely ***diamon*** has tagged moi!

1. Last movie you saw in a theater: Batman Returns with Nibaq!

2. What book are you reading? Quran

3. Favorite board game? Don't have any! I'll play anything really!

4. Favorite magazine? Robb Report, or any car magazine especially BIMMER or BMW Magazine!

5. Favorite smell? Wrong thing to ask a Kuwaiti! We use different kinds of cologne! But since this is smell in general I would say the scent of a clean baby!

6. Favorite food? Another wrong thing to ask an Arab! We'll try anything except pork! The question is, "who'd going to take me out to dinner?"

7. Favorite sound? Can't choose between 3 instruments! (Oud, Violin, or saxophone!) But another thing would be "D"s voice!

8. Worst feeling in the world? Having a loved one pass away, leaving a good friend, and when your heart breaks!

9. What is the first thing you think of when you wake up? Turn the TV on or play music!

10. Favorite fast food place? Burger King or any shawarma place.

11. Future child's name? Ask the wife first for her input, but if it was me it would be either my dad's name or my grand dad from my dad's side's name for the boy and my mom's name or her sister's name for a girl!

12. Finish this statement. If I had a lot of money: Invest some and spend the rest on a good shopping spree!

13. Do you drive fast? YES!

14. Do you sleep with a stuffed animal? No but I do have pillows! Lots of them!

15. Storms, cool or scary? Depends on whether there is a light show or not! If there is a light show (lightning) then yes it's kewl but if there isn't then it's not worth it!

16. What was your first car? The first car I drove was a old school Chevy caprice from the 80's but I didn't have a license! When I did get a license I drove a Land Cruiser! The first car that was in my name was a 1996 Mitsubishi Gallant! *Wink to JC*

17. Favorite drink? Chay 7aleeb made my way!

18. Finish this statement, "If I had the time I would..." : break a few habits I've got and the main one would be the one pretty much every Capricorn goes through and that's trying to keep in touch with people! Capricorns easy lose touch with people and must put in a lot of effort to keep in touch!

19. Do you eat the stems on broccoli? YES!

20. If you could dye your hair any color, what would be your choice? After the incident in Washington DC I don't think I will get my hair dyed again!

21. Name all the different cities/ towns you have lived in? 3dailiya, Yarmook, Jabriya, Qurtoba, Suffield CT and Harrisonburg VA!

22. Half empty or half full? Half full

23. Favorite sports to watch? Used to be a tie between Soccer and F1 Racing! Now it's whatever's on TV! I don't pay too much attention! Last night was NFL!

24. One nice thing about the person who tagged you? Very sincere!

25. Morning person, or night owl? Morning! Give me the sunshine!

26. Over easy, or sunny side-up? Can't I have it scrambled with a few vegetables and herbs?

27. Favorite place to relax? My room or with "D"!

28. Favorite pie? Chicken pot pie baby, yeah! Pumpkin Pie too!


And the winners for the net tag are: JC, Samboose, and Toomz!
Posted by The Stallion @ 10:27 AM

World of War Craft and WiFi Issues!
For the past week or so my younger brothers have been playing a new game called "World of War Craft!" Apparently this game is played online and get very addictive! It came down to the point where my youngest brother got a computer and put it into his room and wanted to set up the Wifi so he could access the net!
I had no objections since the place he wanted the access point put would give me a better connection! What I had a problem with was the wires leading from the office where the hard connection is to the bottom floor and to the basement! Putting the wires aside, everything was working right when I have a fluctuating connection from Low to Good but now I have no connection at all!
My cousin, my brothers, and I have been working on it for 3 days now and last night we had a break through! Everything worked and it couldn't be better! My younger brother was playing in the office, my youngest brother was playing in the basement and my younger brother's friends were in the basement playing as well! I went to sleep last night and they were still playing, but guess what? I woke up this morning and it's all messed up again!
I can see the connection, access it, get and IP, but that's all! I cannot surf the net unless I designate a specific IP from somewhere else, and non of my messengers work! :oP Now it's back to seeing what the issue is!
Posted by The Stallion @ 9:21 AM

Sunday, October 09, 2005
Eid Vacation!
Me sooooo happy!

I just got a memo at work saying that I have a week off for Eid! In other words if Eid is on Thursday the 3rd of November then I have that day until Friday the 11th of November! I have to be at work on the 12th! How sweet is that!

I love my job! Pay sucks but the benefits are amazing!

Posted by The Stallion @ 10:09 AM

Dave and Buster's in Kuwait!
According to today's
Al-Watan Newspaper
(page 14) Dave and Buster's will be coming to Kuwait! This is a good thing but scary at the same time! The contract/franchise was given to Future Kids, and it seems like they have places for kids to have fun at but they don't seem to be taking good care of these places!
For those of you who don't know what Dave and Buster's is, well it's another place like Game Works in Marina Mall! Dave and Buster's is a place where people 21-45 go to have fun! A place they can let their inner child go free! They have dinner and play arcade/video games as well! You do find young kids but they are not targeted by D&B's marketing plans!
I wonder what kind of crowd will show! Most likely il haylag! :oP
Inshallah they will be successful cause Dave and Buster's was amazing in the US!
Posted by The Stallion @ 9:51 AM

Saturday, October 08, 2005
Hmmmm! Where Should I Eat Today?
This will be a question I have to answer for the next few days! My parent's are out of town and so I can choose if I wanna eat at home or my grand parents' house! 3 places to choose from to have fu6oor!
When I told my brother about this situation he was extremely happy and was like, "Don't be pissed if you come home and there is no fu6oor except for KFC or Junk Food!" My reply to that was, "3adi, I don't care! As long as I have my ir6ab, samboosa, and kubba I'll be fine because I know we will get harees or yireesh from my grand parents' house!" :oP
Oh the things I have to deal with! :oP
Posted by The Stallion @ 1:34 PM

Thursday, October 06, 2005
New Add On
Today I've added a new link on the side bar that would let people view some videos that I have recorded! I'm starting with the videos I took on my trip to the US! You can view these videos by clicking the "You Tube" pic below!
Posted by The Stallion @ 11:16 AM

Wednesday, October 05, 2005
TV Shows in Ramadan
Yesterday afternoon I was soo in the mood to watch the shows after fu6oor that I forgot about the shows that come before fu6oor! Last year they KTV had 2 great shows before fu6oor and even better shows after fu6oor! This year though, it seems like things have changed! I can't talk about before fu6oor, but after I think KTV has done something wrong and that Al-Rai TV has taken the comedy shows such as Girgay3an and 9ado!
What do you guys/girls think about this and which shows do you think you'd enjoy this Ramadan!
Posted by The Stallion @ 9:54 AM

Tuesday, October 04, 2005
Ramadan
For all the smokers, I thought the pic below was extremely funny! (No pun intended)
Posted by The Stallion @ 10:13 AM

Monday, October 03, 2005
A Question for Those Who Know Me!
Kal 3ada, I took a quiz and the result is shown below! For those of you who know me, how true does this quiz result seem to you?
You Are 50% Boyish

and 50% Girlish
You are pretty evenly split down the middle - a total eunuch.
Okay, kidding about the eunuch part. But you do get along with both sexes.
You reject traditional gender roles. However, you don't actively fight them.
You're just you. You don't try to be what people expect you to be.
Posted by The Stallion @ 8:24 AM

Sunday, October 02, 2005
Pics From My Trip
Posted by The Stallion @ 3:48 PM

Saturday, October 01, 2005
1st Day at Work!
Today was my first day at work after my vacation and it was weird! Why weird, well it too me close to all day to make my rounds and say hi to everyone and I only got to work for 45 minutes! Another weird thing was some of the people at work actually sat down with me and had a conversation as if they knew me and I have never talked to them before! That was weird but extremely kewl!
Today was
the grand opening to my friend's store
and I passed by to congratulate her! The store is cute! The exterior of the building was old and traffic in Hawalli sucked as usual but once you get in and check the place out you would totally forget about the building and just concentrate on how the store was set up!
Posted by The Stallion @ 10:33 PM

About Me
Name: The Stallion
Location: Kuwait
About Me: A Kuwaiti guy, but definitly not your typical Kuwaiti! I'm very openminded and like to meet new people!
See my complete profile
Previous Posts
Archives
Special Blogs
Interesting Blogs
Credits